Shakespeare's Schools' festival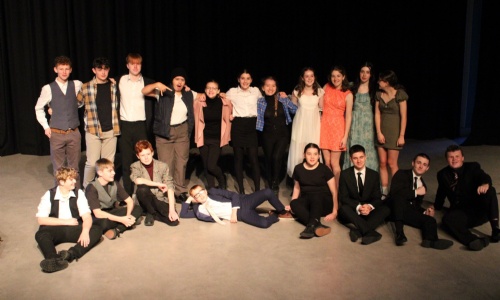 What a pleasure and a privilege it has been to work with these wonderful young people for this year's Shakespeare's Schools' festival!
This year, we as an English department decided to stage a production of Shakespeare's much loved comedy, Much Ado about Nothing.
From casting, to late night rehearsals, to getting to grips with Shakespearean language, this group of performers have exceeded our expectations and have shown determination, dedication and talent. As their English teachers and directors, we couldn't be more proud of them!
Staging any play at this young age is challenging, and staging one written over 400 years ago is a mammoth task, but these young people have taken everything in their stride and proven themselves capable and resilient. They have overcome uncertainty, nerves and dealt with mature themes to create a performance that was professional and exceptionally entertaining!
They found humour and meaning in the text, which is no mean feat! This experience will give them confidence not only to grapple with difficult texts in the future but to deal with unfamiliar situations.
On a personal note, it has been a delight getting to know each one of the cast, crew and band; we've enjoyed every minute spent with them! There have been challenges and difficulties (especially when choosing the right costume and finding shoes to fit!), but we wouldn't change a single second.
Thank you so much to all parents for their continued support and patience. We hope you enjoyed the final production and were as proud of their achievement as we were.
Adieu! Until next time!